Sunnylea is a highly sought after neighbourhood that is especially popular with young families thanks to Mimico Creek which meanders through the neighbourhood and its many mature trees. Sunnylea is also know for it excellent schools. The history of the Sunnylea neighbourhood revolves around Alexander Thompson who purchased two hundred acres of land in this are in 1803 after his discharge from the Kings Rangers. Thompson lived in a distinguished residence, just south of Bloor st and Royal York that was known as Rose Cottage. His son, Archibald, lived in a country Georgian farmhouse just to the south of his father, which was called Spring Bank Cottage. Spring Bank Cottage is still standing today at 7 Meadowcrest Road. The Thompson property was renowned for its apple, cherry, pear and plum orchards.
Sunnylea's bungalow, split level, storey and a half, and two storey houses were built mostly in the 1940's and 1950's. The tutor style houses closer to Bloor Street are the older homes in the neighbourhood. Many of these houses feature handsome riverstone exteriors, bay windows, stone chimneys and decorative front porches. Sunnylea residents in the are bound by Bloor Street, Royal York Rd and Mimico Creek, have been progressive in forming the Thompson Orchard Association which has been successful in getting the city to pass site specific zoning bi-laws to protect the residential character of the neighbourhood.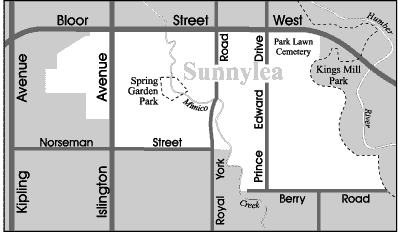 Sunnylea residence enjoy close proximity to shopping in Kingsway village which include a multitude of high end fashion shops, restaurants, fruit and vegetable markets, bakeries and coffee shops.
Close proximity to transportation makes commuting a breeze with two subway stations in walking distance Royal York station and Old Mill station. Motorists are approximately 15 minutes from Toronto's downtown financial and entertainment district via Lakeshore or the Gardiner Expressway.
There is also abundance of excellent schools which include:
Norseman, 105 Norseman St., (416) 394-7880
Park Lawn, 71 Ballacaine Dr., (416) 394-7120
Sunnylea, 35 Glenroy Ave., (416) 394-3850
Etobicoke Cl., 86 Montgomery Rd., (416) 394-7840
Etobicoke School of the Arts, 675 Royal York Rd., (416) 394-6910
Sainte-Margueritte·d'Youville, 755 Royal York Rd., (416) 393-5418